Use this guide on how to grow bell peppers to add this vegetable to your garden this summer.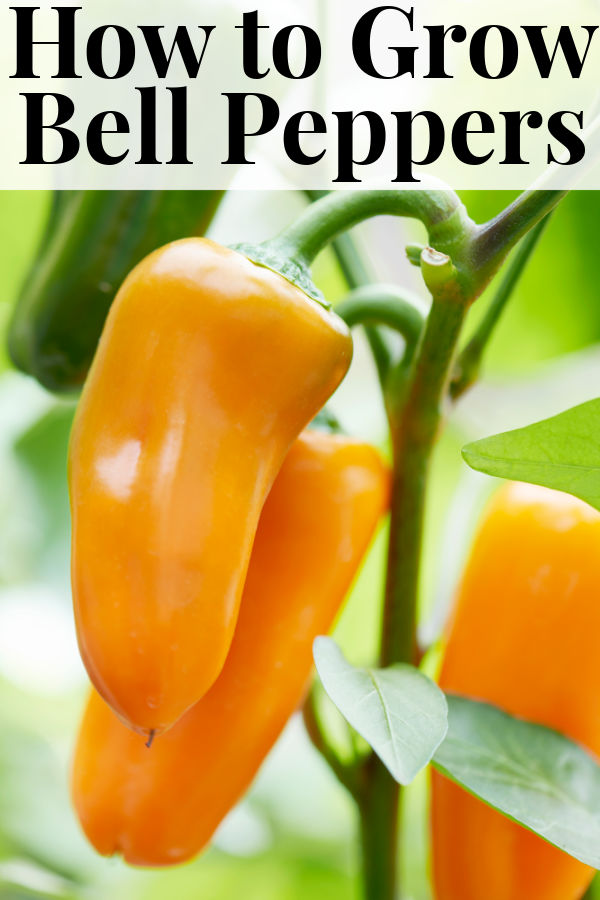 Growing bell peppers in your garden is exciting. It's fun to see them change color and grow into a beautiful fruit to harvest. Bell peppers are easy to grow and since they are resistant to most pests (as are most peppers!) They are a great plant to grow for those that may be new to gardening and advanced gardeners alike. Here are some tips for growing peppers from starting seeds to harvesting.
How to Grow Bell Peppers from Seed
Growing bell peppers from seed is so easy. You just need to make sure you can keep your soil warm enough to germinate. This can be done with lamps or gardener's heating pads. You can also speed up the process by soaking your bell pepper seeds before planting.
You will want seed starting soil for best results, too. For more instructions on how to grow bell peppers from seed, check out this post.
How to Transplant Bell Pepper Seedlings
Transplanting bell peppers requires that you do a hardening off first. This is a way to prepare your seedlings for life outdoors and just consists of basically placing the seedlings outdoors for longer periods of time over a week.
To transplant, you will want to space them out at least 18 inches from each other, plant in a spot that has full sun for several hours a day and is nutrient rich. For more information on transplanting bell pepper seedlings, check out this post.
How to Keep Pests Away from Bell Peppers
Aphids are a concern for bell peppers. They can be easily removed by simply spraying them with water when you are watering your garden.
Another concern is anthracnose. This is a fungus that can cause spots to appear on your fruit and rot them. The best way to not deal with this is to prevent it by rotating your crops each year and avoid watering from the top of your plants.
How to Care for Bell Peppers
Make sure you start with a well-draining soil. You will need to water about two inches a week, especially when it is hot out.
You can also provide support for your peppers by placing tomato cages around them.
How to Harvest Bell Peppers
To harvest peppers you will want to leave them on as long as possible. This will give them the most flavor. When they are mostly uniform in color, cut them off the plant with garden shears or a sharp knife.
For More Information on Growing Bell Peppers
How to Grow Bell Peppers from Seed