Use these gardening instructions to learn how to grow tomatoes.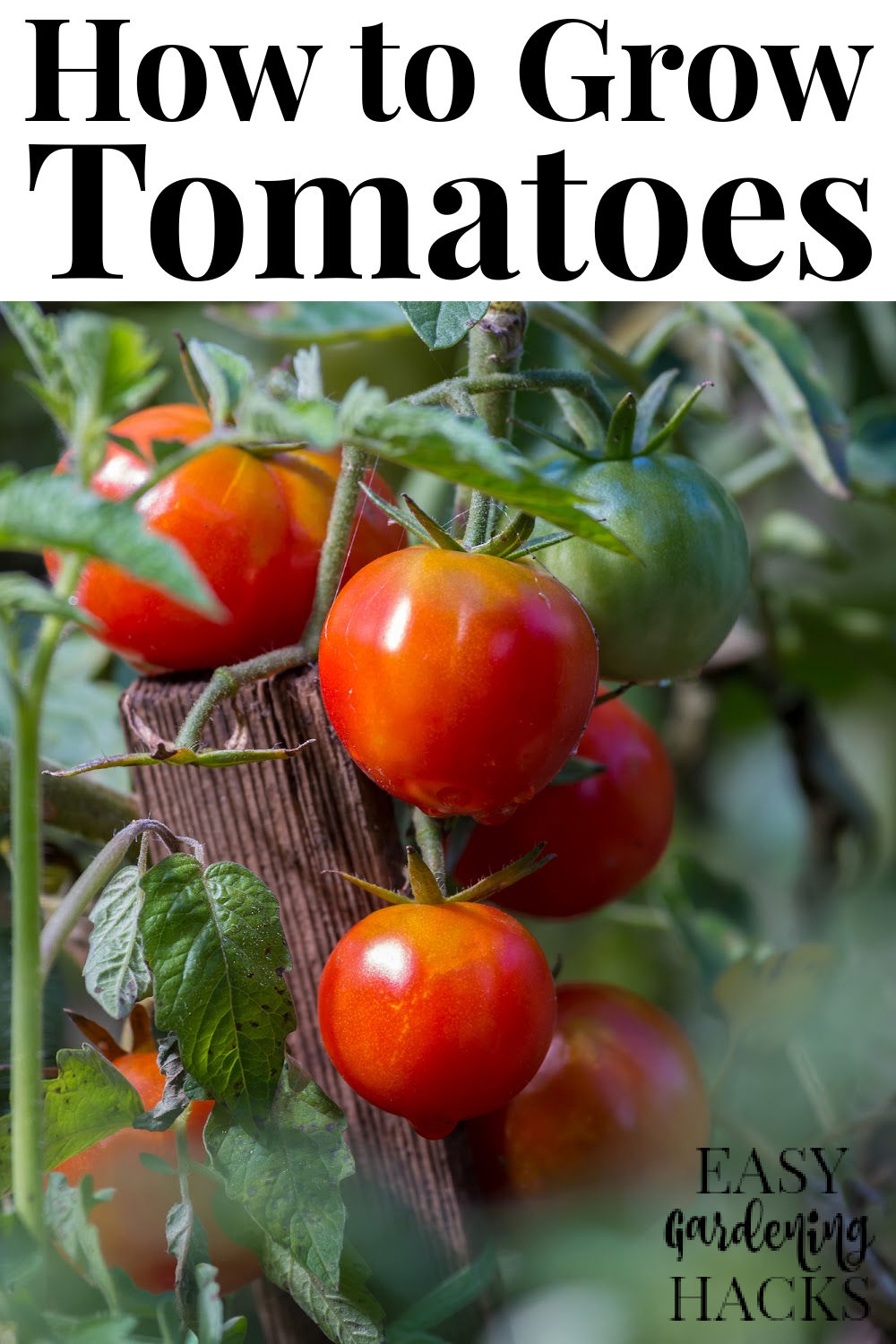 How to Grow Tomatoes
Gardeners everywhere grow tomatoes every year. They are one of the most popular things for even amature gardeners to grow and with some care you can really get yours to produce a lot of fruit and have a great harvest. From growing them from seed to harvest time, here are some tips for growing tomato plants in your garden.
How to Grow Tomatoes from Seed
Growing Tomatoes from seed is very simple. You can do it indoors using paper cups or yogurt containers and a sunny spot in a window. You will need seed starting mix and seeds, as well as water to get started. Place 1-2 seeds on top of your seed starting mix in each container and cover with a light layer of soil. Keep your seeds warm enough to germinate by placing them in a warm spot or using heating lamps. For more detailed instructions of how to start tomatoes by seed indoors with this post.
How to Transplant Tomato Seedlings
Transplanting tomato seedlings is easy as the plants themselves are pretty hardy. You will just want to make sure to harden them off to get them ready to be placed outdoors to grow. Also, make sure that if you are growing them in containers you space them properly and give them enough deepness to get a good root system.
Transplanting tomato seedlings to the ground requires that you give them at least 24 inches of space between plants as well. For more information and instruction of transplanting tomato seedlings, check out this post.
How to Keep Pests Away from Tomatoes
As with many plants, aphids can be a problem with tomatoes. They are easy to get rid of when you see them, tough. Just spray them off with the hose.
Other problems with tomatoes are blight and cracking of the fruit. This occurs when the water levels in your soil are inconsistent. To prevent this, make sure you don't let your tomatoes get dry and water on a regular schedule.
Tomato blight is rotting of the leaves and fruit. There are two kinds of it; early and late. The best way to deal with it is to prevent it. One way to do that is to make sure to rotate your tomato crops every year to keep it from being present. You can also get seeds that have been bred to be more resistant to it. If you do find it, make sure you remove the leaves and fruit that is affected so it does not spread as soon as you notice it.
How to Harvest Tomatoes
Tomato harvest is easy. You just wait until your fruit is a consistent color no matter what the variety. It is ok if they are not completely red at the stem. If you grew your plants a bit late and you worry about frost right before the harvest, you can actually pick the entire plant and hang it upside down in your home or garage and pick fruits as they turn ripe in a few days.
For More Information on How to Grow Tomatoes
How to Grow Tomatoes from Seed