Use these tips on how to grow Swiss Chard from seed to get your Swiss Chard off to a great start whether you start it indoors or directly sow your seeds in the garden.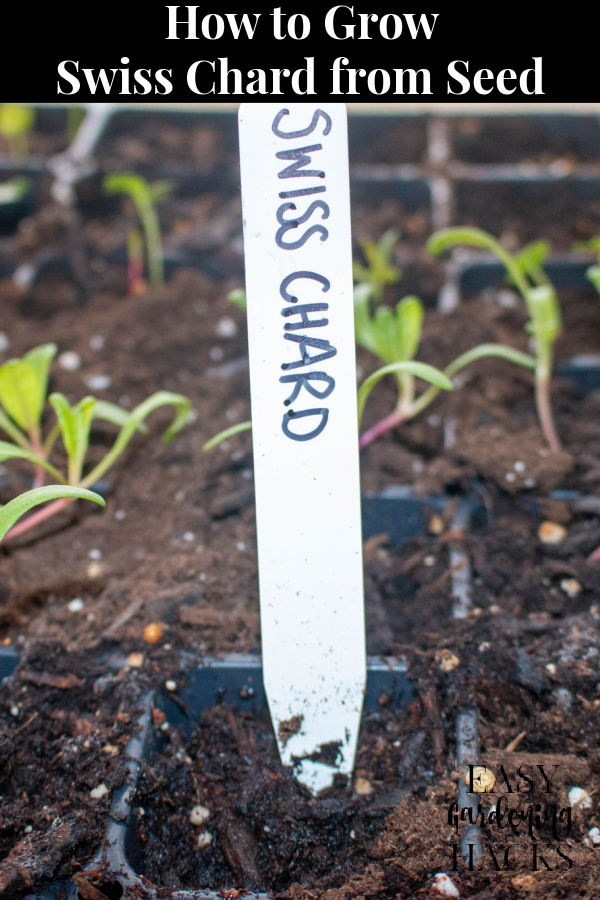 How to Grow Swiss Chard From Seed
Swiss Chard is a versatile plant. You can grow it for many different uses and the whole plant can be used. The dark green leaves can be used in everything from salads to sandwiches. You can also use the delicious white, pink, green, and red stems in casseroles, salads, and other dishes. Depending on the variety that you grow, you will have a rainbow of delicious colors! Here are some tips on how to grow Swiss chard from seed.
How to Start Swiss Chard as Seeds Indoors
Swiss chard grows best in cooler regions. You want to start it early so that you can get it in the ground as soon as the last frost happens. Many people opted to start seedlings before the ground is ready. The optimal temperature for the ground is 50 to 80 degrees Fahrenheit. Although it can grow in the summer sun, chard grows best in the spring or fall.
Start seeds about two to three weeks before the last frost. The best way to do using a seed tray that drains. The soil you will be using is best when it is a seed starting mix. Do not use potting soil as it won't have the proper nutrients or consistency.
Poke your finger down into each section of your seed tray to create a little pocket to place your seeds in. Each hole should be about a half-inch deep.
Swiss chard seeds are cluster seeds. This means that they have seeds inside the pod. You should only plant one to two per hole, otherwise, you will end up with too many seeds taking up the same root system.
Sprinkle your growing medium over the top of your seeds and do not pack it down. Water until moist. Cover your tray with the see-through lid or some plastic wrap and place it in a warm, sunny spot indoors. If you don't have a sunny spot to germinate your seeds, consider adding bright lights. I use this small adjustable grow light with my seed trays.
Your seeds will germinate in about 5 to 10 days.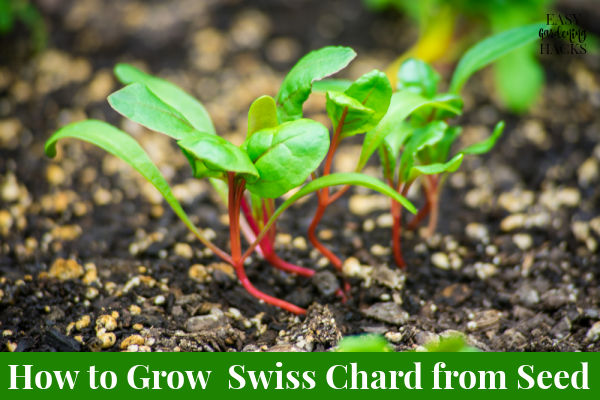 How to Direct Sow Swiss Chard in Your Garden
If you live in a place with mild winters or you want to plant Swiss Chard in the fall, you can direct sow your seeds in your garden. Just make sure the soil temperature is at least 50 degrees Farenheight before sowing your seeds.
How to Sow Swiss Chard Seeds
Chard prefers full sun but can tolerate light shade, so choose an area of your garden that gets full sun to partial shade. Plant the seeds in loose soil that drains well. I like to work a little compost into the soil before I sow my seeds.
Make a half-inch deep hole. Add a seed to the hole and cover it with soil. Place the seeds 6 inches apart.
Water until the soil is moistened. Keep the soil moist, but do not overwater. The seeds should sprout in about a week.
If you plan to grow Swiss chard as a winter crop, be sure to plant your seeds into the ground at least 4 weeks before the first frost of autumn. You want your chard plantings to be established before that first frost.
More Tips for Growing Swiss Chard
How to Transplant Swiss Chard Seedlings